Did you read the caption under that picture?
Before you get all excited and think you don't need to read the book now that you know teachability is The Key to Everything…take a deep breath. We're fixin' to dive in deep. I'm going to be vulnerable. You see…
I thought I was teachable.
Read on, my friends….
I was very excited to be part of the launch team and eager to read The Key To Everything. Who doesn't want to know this secret, right? I didn't know when I started that I was in for more than I bargained for…in the best way possible!
You see, I have a dream of publishing my own book that I have been working towards for almost two years now. (For decades if you include all the time I've spent just thinking about it.) The problem was that I had come across some roadblocks that were keeping me stuck in a few places. They had to do with the technology aspects of having a website as well a place where your readers can input their email address so you can send them emails. I had a few email addresses, but they were in a Gmail folder and I had no way of accessing them, except manually.
I had no idea what the solution was, and there were way too many options, and as many opinions about those options depending on whose blog you read that day. So this decision had been postponed…for almost two years.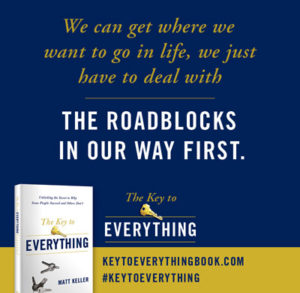 While in the middle of reading the book I decided to talk to a mentor. I confessed that I felt stuck. She challenged me to drill down and figure out what was holding me back from making a decision. The more I thought about it the more my anxiety levels rose about making the wrong decision. There were way too many options out there, and I had no idea how to make sure I made the right choice.
Then I remembered this "formula" I had read in the Introduction:
DESIRE to learn
X
WILLINGNESS to change
=
level of TEACHABILITY
I knew that I needed a WILLINGNESS to change this one behavior: procrastination about making important decisions. I had to quit spinning my wheels and make a decision so I could email my people. Unless I did that I would never get anywhere as an author.
Once I became WILLING TO CHANGE…all manner of assistance came my way.
My friend, Rachel, heard me talk about my dilemma one day and offered to come over and help. She had experience with the very decision that had stumped me for far too long! I listened to her go over my options, and the pros and cons for each one. Then she said the most amazing thing: "If you don't like whichever program you choose, you can always switch to another one. People do that every day. It's not always easy, but it's doable."
So between my mentor and a friend I was able to overcome one of the obstacles that was holding me back from my full potential. That very day I made a decision and haven't looked back since.
As a matter of fact, I decided to be even more teachable and signed up to take a free online class on how to grow my email subscriber list. I started out with just a few emails…was teachable and did exactly what I was told, and am almost 3/4's of the way to my initial goal of 1,000 email subscribers!
My problem now?
I need to send an email out to all those people who have subscribed this week!
And, ummm…
I don't know how to do that.
Yet.
If you want to know whether my book is one you are interested in, or just to know if I ever figured out how to send my readers an email, you can subscribe right on this screen!
But I digress, this blog is about Matt's book, not mine.
I have a lot to learn about being a writer and author, but having read Matt Keller's The Key To Everything I am more prepared to be TEACHABLE than ever before!
I want to leave my mark on the world…but first I have some email tutorial videos to go watch.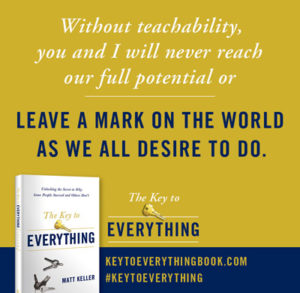 The Key To Everything is now available from Amazon.
Learn more about Matt Keller on his website: MattKellerOnline, on Facebook, and on Twitter.