"Every answer regarding why your career is moving in its current direction – good or bad – is found inside you."
Rick Whitted, author
If you are willing to dig into this excellent resource and apply what you learn, you will be rewarded with the wisdom needed to help you have a long and lasting career in the field of your choice. You can take the CareerWhitt Assessment to see what is driving your career decisions: your emotions or your core values. Knowing this can help you make career decisions that will propel you forward instead of leaving you spinning your wheels.
The best review I can give this book is to tell you that I am passing it along to my four grown children hoping they will read and heed Rick's wise counsel. They are all just starting out in life and have long careers ahead of them.
If you are like me, you could probably name dozens of people who wish they had this advice when they first started their careers.
From the book's description:
"With a lifetime of experience and research to back him up, Rick Whitted helps you
Identify why you want a promotion
Define for yourself what success really looks like
Position yourself for a promotion
Innovate in the role you perform right now
and much more…"
This would make an excellent high school or college graduation gift.
Pick up a copy for someone you know who is struggling to find their niche.
---
Available for purchase at Amazon, Barnes & Noble, and Christianbook.com.
You can follow Rick Whitted on Facebook, Twitter, and Instagram, Podcast and YouTube.
I received a copy of this book from The Blog Spot Network in exchange for my review.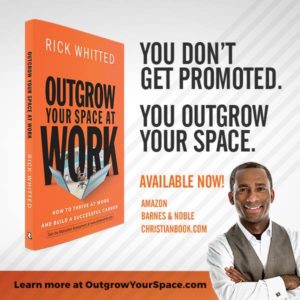 Save