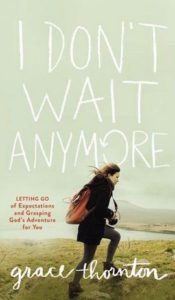 I Don't Wait Anymore: Letting Go of Expectations and Grasping God's Adventure for You by Grace Thornton
My rating: 5 of 5 stars
The title and subtitle of this book hooked me from the first time I heard about it so I jumped at the chance to read and review it. It took a while for me to settle into the rhythm and writing style of the author. It felt like she jumped around a bit at first. I was glad once I got past that, though. She has a message for everyone, but especially for all those who pledged before God and man to "wait" and then wore the ubiquitous "True Love Waits" purity rings as a token of their commitment. She has a message for anyone that has waited for God to move in any area of their life, only to be left feeling disappointment with God.
She defines waiting in a way that I wasn't expecting and then makes a case for all of us that are living lives with unrealized expectations, plans, goals and dreams to stop waiting. By the time I was halfway through, I could not wait to see where she was going with her train of thought.
Grace did not disappoint. She tells story after story that make our hearts beat wildly for the kind of life we truly want to live. One where we climb to the mountaintops looking for, and find, the amazing life we know is out there. She reminds us that it is possible.
I wanted to highlight all the good quotes, but realized I would have to stop too often, and my eyes wanted to read the next page instead. My eyes won, mostly because this is the kind of book that is intended to be given as a gift and once I started reading, I thought of several people that I wanted to gift my copy to.
A beautiful book inside and out. The ribbon place marker was a nice touch.
I was provided with a copy of this book by the publisher in return for my honest review.
I will be giving away a copy of I Don't Wait Anymore to one of my blog subscribers! I will announce the winner on Sunday, June 12. Subscribe and comment below for a chance to win!
Save
Save