I am a passionate communicator who seeks to put my listeners on the path to a transformed life. My belief that every story matters fuels my desire to reach a broad audience with my message of hope and redemption. When audience members walk away from my talks, I want them to leave inspired and equipped to continue pursuing their own journey to healing and freedom.
Since I began speaking more than a decade ago, I have been able to reach thousands of women through a variety of groups and venues, including churches, parachurch organizations, and women's retreats. In 2007 I became a regular speaker for Stonecroft. I have traveled all over Texas, as well as to New Mexico, Oklahoma, Arkansas, Louisiana, and Wisconsin for speaking engagements. At each event, I use my experiences to show that every story can be redeemed for good, no matter how bleak parts of it may be. Sharing my story allows me to connect with people from a diverse array of backgrounds.
Upcoming Events
(registration information linked in event titles)
Wednesday, July 5, 2017
5:30-7:30 p.m.
Winchester Book Gallery
Winchester, VA
Book Discussion & Meet and Greet
Thursday, July 6, 2017
Lexington, SC
Saturday, July 8, 2017
7:00 p.m.
Boca Raton, FL
Meet and Greet
TBA
Sarasota, FL
Tuesday, July 11, 2017
Brandon, FL
Thursday, July 13, 2017
Alto, GA
Crosstimbers Church
Tuesday, July 18, 2017
Time TBA
Lake Dallas Campus
Saturday, July 22, 2017
Edmond, OK
Sunstone Salt Lake Symposium for 2017
Wednesday,July 26-Saturday, July 29, 2017
Anna is scheduled to speak Saturday, July 29, 2017
10:15 a.m.-11:15 a.m.
Union Theatre
Salt Lake City, UT
Book Signing and Discussion
Thursday, August 17, 2017
7:00 p.m.
Interbang Books, Dallas, TX
Sand Hill Baptist Church
Saturday, August 19, 2017
Time TBA
Gilmer, TX
Conference Speaker
Saturday, September 3, 2017
Private Event
Round Rock, TX
Saturday, September 16, 2017
8:30 a.m.-1:00 p.m.
Rockwall, TX
Past Events
Interview With Author Anna LeBaron
Sunday, July 2, 2017
10:30 a.m.
Lancaster Brethren In Christ
Lancaster, PA
Monday, June 26, 2017
7:00 p.m.
The Woodlands at Furman
Greenville, SC
Book Reading and Signing
Saturday, June 24, 2017
5-7 p.m.
My Sister's Store Books and More
Travelers Rest, SC
Book Signing
Saturday, June 24, 2017
1-3 p.m.
Crossway Christian Supply
Easley, SC
Ladies of Acts Women's Group
Monday, June 19, 2017
6:30 p.m.
The Church at Addis
Addis, LA
Christian Women's Connection
June 15, 2017
Longview, TX
May 20, 2017
7:00 p.m.
Cornerstone Church, Grand Island, NY
May 13 & 14, 2017
Saturday, 5:00 p.m.
Sunday, 9:00 a.m. & 11:00 a.m.
Peoria, IL
Friday, May 12, 2017
7:00-9:00 p.m.
Oostburg, WI
May 11, 2017
5:00 p.m.
Paperbacks and Pieces, Winona MN
Meet and Greet at The Oaks Wine Bar, Winona, MN
7:00 p.m.
Tuesday, May 9, 2017
7-8:30 p.m.
Our Savior's Lutheran Church, Inwood, IA
Book Signing & Discussion
Monday, May 8, 2017
2:00 p.m.
Bible Supplies, North Platte, NE
Thursday, May 4, 2017
Book Bar, Denver, CO
Book Signing of The Polygamist's Daughter
April 29, 2017
Barnes & Noble Sugarhouse, Salt Lake City, UT
4:00 p.m.
April 28, 2017
9:00 a.m.
Salt Lake City, UT
Listen here.
April 25, 2017
Annie Bloom's Books, Portland, OR
7:00 p.m.
April 11, 2017
3:00 p.m.
Casa Grande, AZ
April 8, 2017
First Baptist Church Liberty, TX
6:00 p.m.
April 8, 2017
Houston, TX
Conference begins Friday, April 7 at 7:00p.m. and ends Saturday, April 8 at 4:00 p.m.; Anna speaks at 11:00 a.m. on Saturday.
April 2, 2017
Barnes & Noble Arboretum, Austin, TX
2:00 p.m.
Book Signing of The Polygamist's Daughter
March 23, 2017
Barnes & Noble (Lincoln Park), Dallas, TX
Christian Women's Connection
February 21, 2017
Arlington, TX
Vaggio's Estate and Winery
February 9, 2017
Acampo, CA
Christian Women's Connection
January 18, 2017
Fort Worth, TX
Christian Women's Connection
January 11, 2017
Hurst, TX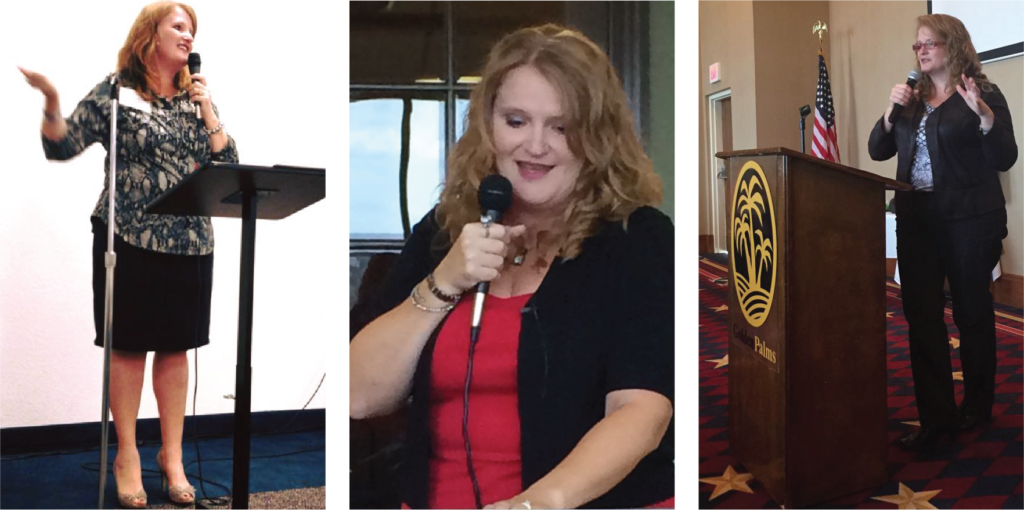 I offer the following topics for speaking engagements:
Escaping Polygamy
In this talk, I share my story of growing up essentially fatherless in a violent polygamist cult. Shuffled between homes with dozens of siblings, I experienced a life very different than many people's upbringing. I encountered enormous losses and tragic events, yet I overcame. Today, my desire is to tell my story in order to help others realize that no matter what hardship is harbored in your past, you too can receive wholeness and freedom by accessing the heart of your Heavenly Father.
Who Husbands Your Heart?
Do you want to be known as someone who exhibits love, joy, and peace? When used as a verb, "husband" means "to cultivate an edible crop" in reference to a vineyard, a garden, a field, or an orchard, as well as our spirits. With this topic, I guide participants into knowing how God seeks to "husband" our hearts. Using clear examples, I provide tools, which allow the Holy Spirit to harvest an edible crop that nourishes those around us.
Hearing God
Have you ever heard the phrase "my sheep hear My voice" and wondered what it means? Or why you've never heard His voice? Because we often have our own agendas in mind when we seek His voice, many of us have heard Him speak without realizing it was Him. While we tend to approach the conversation seeking solutions to our problems, He often wants to speak to us about topics that will transform our lives. In this talk, I take the mystery out of recognizing how and when God is speaking to your heart. I give practical advice on quieting your mind and preparing your heart to listen. In providing these tools, I hope to show you that God will meet you right where you are and that you can know, without doubt, it is His voice you hear.
Harnessing the Power of Social Media to Launch Your Book
Books don't sell themselves. You need a strategy to get your book into the hands of your ideal readers. I will walk you through the process of using social media to spread the word about your book. We will discuss some simple things you can do on your website, as well as on your social media platforms in advance of your book release. Having a large number of followers on social media is great, but those numbers don't mean what they used to. The key now is social media engagement. I will bring my experience and passion for all things book launching and social media and provide you with the latest information for increasing your social media engagement.
What People Are Saying
Anna's spellbinding personal testimony of going from childhood cult captivity to freedom in Christ was a highlight of the fall Bible Study kick-off event, "Bling it On," at First Baptist Church, Lewisville, Texas. Her well-attended break-out sessions left attendees with a sense of surprise and sadness as her tender heart spilled the horrors of abuse in the guise of obedience to a false religion. Her story is one of a true and loving God who chose her as His beautiful vessel to expose an unspeakable evil. Anna's story is one all must hear.
Jan Latham
Marketplace Ministries Chaplain | Lewisville, TX
I love Anna's vulnerability and transparency. She touched our hearts as she spoke and all I could think was how brave she is. She has always been brave. Her story inspired us to be brave and to start moving in the direction of freedom. She spoke a few words that stuck with me that day. Anna said, "Just start walking." What sounded so simple deeply impacted our ministry. We came into that room to hear her story but left changed and inspired.
Connie Hill
The Butterfly Effect Women's Ministry | Dallas, TX
Anna LeBaron has an amazing story of God's grace and overcoming strength in the midst of tremendous obstacles. And she tells her story with such passion and clarity that it will leave you cheering and wanting to hear more. In addition to being a powerful speaker, Anna is a gifted teacher with an ability to uncover and communicate facets of God's truth in each memorable image she evokes. She has allowed God to lift her from the depths of darkness into a light that permeates her entire being and spreads the love of God to everyone she meets. Through Anna's story, whether written or spoken, you will encounter a Heavenly Father who loves and pursues relentlessly.
Carolyn Simmons
Amarillo Christian Women's Connection | Amarillo, TX
Anna was mesmerizing!
Melissa Myers
Event attendee | Grapevine, TX
Anna's life story was an inspiration to all who came to hear her tell about God's redeeming power to enable her to overcome the terrors of living in fear from her circumstances. Her words encouraged all of those in attendance and reminded them that God has a plan for their lives.
Karon Stroope Otts
Chair of Ellis County Women Connection | Waxahachie, TX
Anna LeBaron is one of the most fascinating and thought-provoking speakers I have heard in a long time. She spoke from the heart, sharing wisdom far beyond her childhood years as she escaped the fallacy and dysfunction of her polygamous family. Her engaging style, sincerity, and devotion to God kept my attention throughout her presentation. She challenged us to seek the truth, even when it requires courage beyond ourselves. Everything she talked about pointed to our loving God. What a powerful speaker!
Judith P. Staples, Ed.D.
Certified Life Coach | Waco, TX
It was an honor to hear Anna speak. Her honesty and passion for sharing her life and Lord was very moving. Our ladies always enjoy our speakers but Anna received such a great response from our comment cards. I believe every lady was touched in a special way. Without a doubt I know God will continue to use her to encourage others to allow Him to guide and comfort them in their own journeys.
Cheryl Brister
Christian Women's Connection | Shreveport, LA
Hearing Anna's transparency in sharing her story made me realize that my own story — even the hard parts — is worth telling. When I first connected with Anna, I felt stuck in many areas of my life — bound by habits, patterns, and thought processes that were keeping me from moving forward, I didn't know where to begin to make those changes. In small group conversations, Anna created a safe space where I was comfortable sharing my struggles. As a tried and true introvert, this was no small feat, but she gently drew me out of the shadows and gave me the tools to express myself effectively, break the cyclical nature of my actions, and begin pursuing freedom in my identity.
Ticcoa Leister
Splendid Retreat attendee | Corinth, TX
When Anna tells her story, she is passionate and compassionate, vulnerable and determined, moving and matter-of- fact. Reading her blog is like having her in the room beside you, with a sense of humor that makes her the modern day Erma Bombeck — only with a compelling life story to tell."
Karl Brooks
Regular reader of Anna's blog | Dallas, TX
Save
Save
Save
Save
Save