As a child, I ate more than my fair share of beans. My siblings and I often ate nothing more than a sandwich consisting of white bread, mashed beans, and—if we were lucky—a smear of mayonnaise while working long hours in the appliance warehouse run by our family members. You can read the WHOLE story in my memoir, The Polygamist's Daughter.
These days, I eat as few beans as possible—because I'm an adult and I do what I want. The exception to this rule is my homemade refried beans.
Today, I've invited my dear friend, Ticcoa, to share her take on my famous refried beans recipe. Seems appropriate since it's Cinco de Mayo, doesn't it?
~*~
If there's one thing I know about Anna, it's that beans are not her favorite food. Not even close! As a Carolina girl transplanted to Texas, refried beans have never been one of my favorite foods either. But I have to admit that when Anna first made her refried beans for me nearly two years ago they were, honestly, the best I've ever had.
Back in February, I asked her to teach me her ways—and she did. We documented the process on my InstaStory and her Facebook page.  Now, I'm delighted to share the process (and pictures) with you!
I give you…
Anna's Famous Refried Beans
What you need:
Dried pinto beans (2lb bag)
Bacon grease (it really doesn't get better than this)
Seasonings (whatever suits your fancy)
Yellow onion
Garlic
Sharp cheddar cheese (a hunk)
Tortilla chips (or a spoon) for devouring the goodness you're about to create
A sense of adventure
A lack of rigidity concerning exact measurements and recipe instructions
I should warn you now: if you've come for a detailed Pioneer Woman-esque tutorial, you're probably setting yourself up for disappointment.
But keep reading, anyway.
Step 1: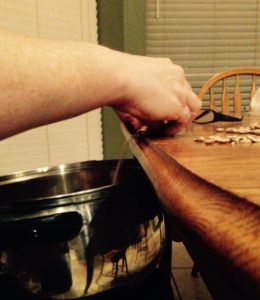 Grab a bowl and sort your beans, taking out the duds and any small rocks that might have slipped by in the packaging process.
Step 2:
Find a large, sturdy pot that will hold several quarts of water and the beans.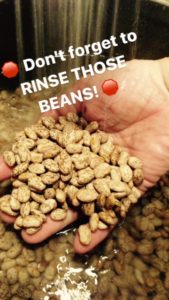 Rinse the beans and pour them into the pot.
Step 3:
Fill the pot with cold water until it's just below the rim. Pop a lid on it and let the beans soak in the pool overnight.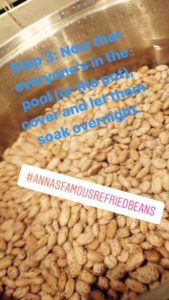 Step 4:
It's a new day. A good day. It's refried bean day. Drain the water from the pot and add fresh water. Place the pot on the stove over medium high heat.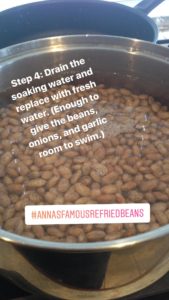 *Important reminder: Be sure you have garlic and onions on hand. Don't be like Anna and I. Don't unnecessarily postpone your reward of refried beans with an emergency trip to the store. You're worth more than that nonsense.

Step 5:
Peel and roughly chop an onion and a few cloves of garlic. Toss them in the pot and let them get to know the beans.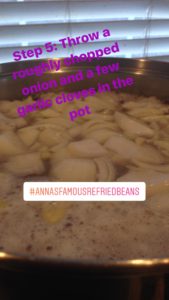 Step 6:
Grab some salt and whatever seasonings might result in a taste-bud-pleasing combination. Seriously. Just fling open
your pantry and ask yourself what Anna would add. (My humble suggestions are chili powder, paprika, red pepper flakes, cayenne, etc.)
Step 7:
Bring to a rolling boil, then reduce heat to low. Replace lid, tilting to allow steam to escape. Cook on low heat for hours (and hours until your hope begins to fade, and your hairs begin to gray). Check progress until the beans are soft, with splitting skins.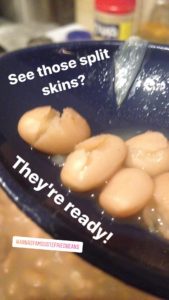 Step 8:
Pour rendered bacon fat into a different pot, Dutch oven, or cast-iron skillet. Now is not the time to be shy about fat. Embrace it. Love it.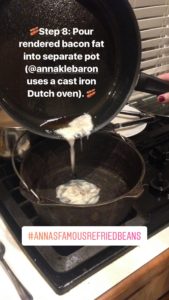 Step 9: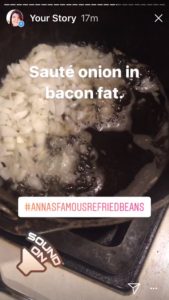 Chop another onion (or half an onion) and saute it in the bacon fat. Ladle beans from first pot into second with a slotted spoon. You want to transfer a little cooking liquid, but not a lot. Reserve some liquid in case you need to thin the beans after refrying.
Step 10:
Choose your weapon of mass destruction (for example, a potato masher) and start smashing while cooking over medium heat.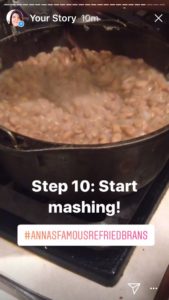 Step 11:
Add sharp cheddar cheese to the annihilated beans. Anna's approximate ratio is 1 lb. of cheese to 2 lbs. of beans. (Maybe now is a good time to put your cardiologist on speed dial.)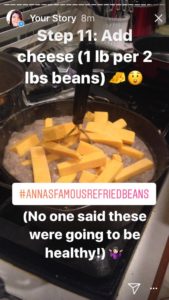 Step 12: 
Keep stirring and mashing until cheese is melted and you are trying not to drool over the pot. Once it melts, serve those glorious beans up in a bowl, grab those tortilla chips (or a spoon), set it on the table, and try your best to let them cool before digging in. Your tongue will thank you. Your belly will thank you.
Enjoy Anna's Famous Refried Beans!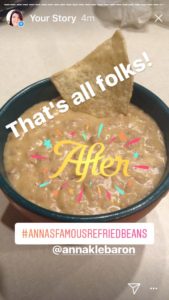 Happy Cinco de Mayo, friends!
Ticcoa is a Carolina girl transplanted to Texas. An introvert who survived her Worst Best Year on a 23,461-mile road trip with an extrovert (a.k.a Anna), she writes with the hope that her story of owning her brave and learning to live in her own skin will inspire others. She blogs at www.ticcoa.com.