This week I started a ruckus on Jen Hatmaker's Twitter feed with ONE TWEET and a HASHTAG.
The tweet was about her forthcoming book, "For The Love – Fighting For Grace in a World of Impossible Standards," which is set for release on Aug 18, 2015.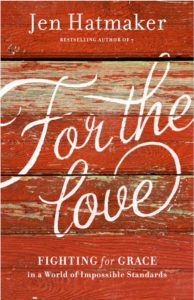 You can pre-order at B&N, Books-a-Million, or Amazon.
You see, I applied to be on her Book Launch Team. They had 5,000 applicants and only 500 spots, so there were 4500 of us that got the sweetest rejection letter EVER telling us all that we are "still her people"… ALONG WITH FOUR (4) SAMPLE CHAPTERS to read in advance!
I was so excited that I tweeted her: (Jen loves hashtags and good food, so I referenced both in my Tweet and made up this hashtag on the fly.)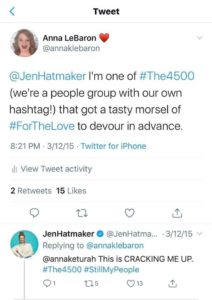 WAIT! WHAT?…Jen Hatmaker REPLIED…TO MY TWEET!?!
That ONE TWEET and HASHTAG (along with a famous person's reply, of course) started what Seth Godin calls A RUCKUS! The hashtag went viral…(ok, fine…it went viral on Jen's Twitter page)… but then it spilled over onto Facebook in the form of a group (i.e. a non-stop paaartay!… that Jen has peeked in on!) and OH MY GOSH. I CAN'T EVEN.
Basically, #The4500 said that while we may not have made the "official" launch team (initially), we are still on your launch team, Jen! In other words, we didn't take 'no' for an answer.
Then there was that day that Jen tweeted and re-tweeted my tweets, and called me "the dearest thing ever" and has tweeted "So in love with #The4500". Even Brandon Hatmaker got in on this deal tweeting "love it" alongside "#The4500".
Then we heard that #The4500 was "all the talk" (someone discussing it at the water cooler) at Thomas Nelson (Jen's publisher) because THIS KIND OF THING HAS NEVER HAPPENED BEFORE!!!
And now Thomas Nelson has gotten involved with our group, and THAT'S KIND OF A BIG DEAL to me! Katy is on Jen's marketing team and is giving us guidance and direction about how to help promote Jen's book in ways that will actually help her. (As opposed to all the ways in which #The4500 just went nuts doing our own thing.) Herding cats is more like how I'd describe Katy's fun new job duties.
Katy may need therapy when this is all over with, but I'm dying of happiness, you guys! I don't even know what to do with myself anymore.
I'm not sure I'll be of any use to anyone for days, maybe even weeks or possibly months.
AUGUST 18th CANNOT GET HERE SOON ENOUGH!