The story you are about to read is true. I couldn't make this up if I tried.
On October 15, 2015 I heard a voice that said, "Start your book launch team, call it #the4500launches and promote other first-time authors while waiting for your turn." It was that clear and direct.
So I created a Facebook group for my launch team, even though I do not (yet***) have a contract with a publisher for the memoir I am writing.
***I believe Paul who said, "God…calls things that are not, as though they already existed".
***I also believed the William Hutchison Murry quote, which proved itself to be true.
Read on…
Six days later I'm on Twitter and read Marlena Bittner's tweet about a first-time author who has a memoir releasing in January 2015.
Feeling sure that there's already a book launch team in place to promote her book, I fire off a tweet to the author, Ruth Wariner, and offer to help promote the book… not knowing Ruth is my cousin!
A little later that same day, I read a comment on a Goodreads review that mentioned the word "polygamy," and my brain explodes as I scurry back to Ruth's Twitter, click on her website and read her history.
I gasped and my heart stopped after I read and scrolled far enough down to see the mugshot photo of my father, Ervil LeBarón… and it dawns on me who Ruth is. My hand flies to my mouth, covering it, as I think, "What have I done? I tweeted one of Joel's children publicly!"
I immediately tweeted this in a feeble attempt to distance myself from my father and the atrocities he committed while still alive, hoping she wouldn't block me on Twitter before I had a chance to explain: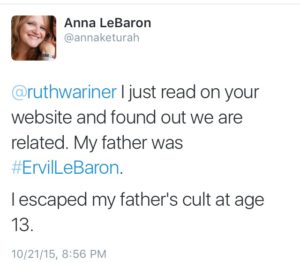 You see, Ruth and I share a very painful family history. Our deceased fathers, Ervil and Joel LeBarón are a 1970's version of the Cain and Abel story: with my father Ervil being the modern-day Cain.
Our family history is the subject of her book, so I will not add any spoilers.
Our family history is also the subject of my yet-to-be-published memoir.
Ruth and I are telling our stories from the opposite sides of our feuding families, like the Hatfields and McCoys.
Our families, and the nearly 100 children fathered by Joel and Ervil, were split apart the day my father, Ervil, ordered a "Blood Atonement" hit on his own brother, and Ruth's father, Joel.
I was three years old and Ruth was just three months old that fateful day, August 20, 1972.
With very few exceptions, our two families and those who followed these men, often referred to as "The Joelites" and "The Ervilites" have not spoken in over four decades, until our one-in-a-zillion chance encounter on Twitter. Seriously. What are the odds of that happening? Some would use the word "coincidence" to describe it, but I prefer "God-incidence".
After a private, direct message exchange through Twitter, in which I find out that there is not a launch team assembled yet, I offer to lead a team using #the4500launches to promote her book, and the rest is history.
Ruth and I are living out "the rest of the story" as I type this blog post on the day of her book release.
We met in person on December 3 and physically embraced one another, while symbolically restoring our families. We understand fully that each member of our respective families may not feel ready to embrace these changes. Ruth and I are in agreement that the timing of their healing journey is a very personal matter and we will respect that to the best of our ability, while embracing our familial connection both in person and online.

Click here to join #the4500launches Facebook Group
We still have another book or two to launch before it is my turn. 🙂