This post is part of Jen Hatmaker's "For the Love" Blog Tour which I am delighted to be a part of along with many other inspiring bloggers. To learn more and join us, CLICK HERE.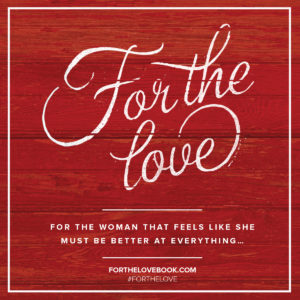 Book trailer
Book website
I have grown to love Jen Hatmaker, the self-titled "hashtag abusing Jesus girl," more than I believed possible having never met her in person…(yet).
Before March 12th I only knew her from her blog (www.jenhatmaker.com) and Facebook posts (www.facebook.com/pages/Jen-Hatmaker/203920953040241) which are hilarious.
(Confession:  I had never read any of her serious books like Interrupted or 7: An Experimental Mutiny Against Excess…because I didn't know they existed! I have since corrected that egregious oversight.)
In March my life changed.  I applied to be on the For The Love book launch team and was rejected along with 4500 others and #the4500 decided that we would be a launch team anyway with just the four chapters we had been given as a sweet consolation prize.  It's a long story you can read about here.
Life as I knew it became "before the tweet" and "after the tweet".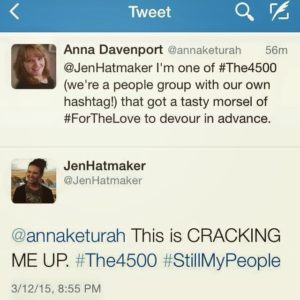 The best way for me to tell you about Jen Hatmaker's For The Love: Fighting For Grace in a World of Impossible Standards is to let her tell you about us.
Jen had this to say about #the4500 (and #the500) in her "thank you" at the end of For The Love:
"These women came together months before this book released, and a community emerged that I could not have imagined in my wildest dreams. What started as a simple rally around For The Love turned into meet-ups, scholarships, prayer groups, trips, parties, parenting threads, writing clubs, group merchandising, and essentially, the entire message of FTL demonstrated in real life.  Friends, I love you with my entire heart. Beyond the beautiful endorsements and encouragement, you showed me that a FTL community is not only possible, it is vibrant and spiritual and unified and entirely irreverent.  You are my best gift this year.  Forever #onmybeam."
That, my readers, is the caliber of women that became #the4500.
Over the course of five months and too many posts and comments in our group to count, we have become each other's IRL (or #InRealLife) friends.  I have welcomed these women into my heart and into my home.
We have called, texted, and hung out with each other using every social media outlet there is.
We have shown up in real life for one another.
We have bonded over a cups of coffee and simple meals served with wine.
We lived the message of FTL before we even knew what the book was all about.
We have laughed together over some of the silliest things you can imagine and cried with one another over devastating news and serious losses.
We let down our guards with one another and offered up our vulnerability in ways that mattered.
As Jen says in FTL, "Simply speaking truth out loud is healing in and of itself. When people courageously voice a true, hard feeling, they've already stolen some of its dark power before we offer one word to fix it." 
We discovered that our commonalities far exceeded any differences we may have found.
We offered each other the grace that Jen talks about that this world needs so desperately.
We now have words, phrases and #hashtags that require an explanation.
Also, Dauntless Grace Ministries was born out of some #RealTalk conversations…that originated in #the4500…which originated from a tweet…on Twitter.  Seriously?!
Side note: I'll be hosting a DGM Group in my home starting in September!
It's like all this awesomeness was just dropped in our laps from above. 
On Twitter Jen referred to FTL like birthing a baby she hoped wouldn't keep her up at night. So I'd like to think #the4500 was like a doula, coming alongside her as she delivered this baby to the world.
Our relationship with Jen will forever be etched on our hearts as an exciting season of life that we lived to the fullest and then some.  I don't know how any of us got any sleep.
I do know that I will take these women with me wherever I go.  Our hearts have been forever knitted together in the bonds of true girlfriend, real talk fellowship. I want them all to be part of my Supper Club and I want my porch to be an altar where we gather weekly for Sunday Night Church.
We, the women of #the4500, launched a book, and a movement.
We have made both Jen and Jesus proud. I couldn't have asked for more.